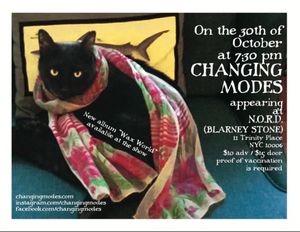 🎶 Double Entendre X Changing Modes 🎶
Wednesday, August 30th @ 8-10p 
Soapbox Gallery 
636 Dean Street 
Brooklyn, NY 11238
🚇 Subway 🚇 
2/3/4/5/B/D/N/Q/R to Atlantic Av - Barclays Ctr 
🎟 FREE 🎟 
Age: all ages 
 https://www.eventbrite.com/e/double-entendre-and-changing-modes-the-soap-box-gallery-tickets-663773122277
🌍🌏🌎 If you're unable to make it in-person, 
this show will be Live-Streamed worldwide! 🌏🌍🌎 
 https://power.thrivecart.com/soapbox-gallery-donation/
🤩 The program 🤩 
. Watching Birds by Wendy Griffiths 
. Motoric Rise by Stephanie Berg 
. Molly on the Shore by Percy Grainger (arr. Gilbert Dejean) 
. Set by Changing Modes 
NYC-based Double Entendre Music Ensemble 
is a collective of like-minded musicians 
devoted to adventurous exploration 
of the double reed repertoire. 
Noted for its first-rate musicianship and creativity, 
the Ensemble illuminates classics, revives neglected music, 
and commissions new works for these soulful instruments. 
Changing Modes is an experimental, indie, 
punk, rock group from Brooklyn. 
The music began quietly in the mid-90's 
when Wendy Griffiths started making 
her "bedroom tapes." She says she had 
no intention of making these songs public. 
They were like art songs with very unusual rock beats. 
We look forward to playing for you! 
#LiveMusicNYC #BrooklynBand #AfroPunk #ArtRock #ProgRock #MathRock #NerdRock #GarageProg #Eclectic #ChangingModes #SupportLocalArtists #SupportLocalArt #NewMusic #sunny #cat #whoswho #SummerSessions 
#Oboes #DoubleEntendre #MusicEnsemble #DoubleReed #SoapboxGallery