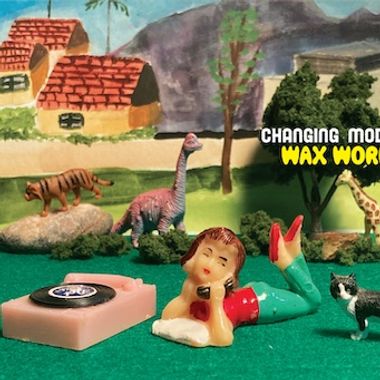 Review of Wax World (2021)
A Characteristically Brilliant, Surprising, Slashingly Lyrical New Album by Changing Modes
Changing Modes have been one of the best bands in New York since the zeros, when they began releasing a formidable series of catchy, ambitious, individualistic rock records. Their music features layers of keyboards and vocal harmonies from frontwomen Wendy Griffiths and Grace Pulliam, enigmatically virtuosic and often slashing lead guitar from Yuzuru Sadashige, with drummer Timur Yusef colorfully negotiating the songs' serpentine, shapeshifting rhythms. As the years went on, their playful lyrical edge grew angrier and more politically-inspired, particularly as the Metoo movement gained momentum. Their latest album Wax World is streaming at youtube.
From a performance point of view, what's most amazing is that it sounds as lush and contiguous as the rest of their catalog, considering that Yusef – one of the most colorfully nimble players in town – recorded his tracks remotely from the UK.
The opening number, Audio Polaroid, is a searing, sardonic commentary on IG-era narcissism: "Audio Polaroid never will fill the void," the two women harmonize over a surreal blend of reggae and skittish new wave. The ultimate message seems to be that it's never more than a memory – and a hazy one at that.
Griffiths and Pulliam exchange lyrical lines and harmonies over haphazard Beatles blues in Nothing to Say: "You're selling your soul on ebay, you're selling secrets that aren't yours to give away," Pulliam accuses. Strychnine is not the Cramps classic but an slyly blippy, very subtly venomous, new wave-tinged original with a hilarious intro.
Stasis Loop rises out of an evil morass of feedback and horror-movie keys, a macabre, picturesque account of the early days of the lockdown in New York, "Stuck in a place where nobody waits for summer or fall…playgrounds are empty, their friends are all gone and even their masters are someone else's boss." It might be the best song of 2021.
The band maintain the chilly ambience in Autumn, a vehicle for Sadashige's enigmatically skeletal guitar leads. Likewise, the rainy-day guitar clusters, keening organ and plaintive vocal harmonies in Glass of Winter. If this song is any indication, Sadashige was a great surf guitarist in a past life and has graduated to jazz.
Solitary, a brisk punchy new wave/punk number, speaks for itself: this time the grisly joke is the outro. Yusef's gracefully tumbling Atrocity Exhibition-style drums bookend On an Island, a gorgeously symphonic, surreal escape ballad. Baritone saxophonist Sawa Tamezane caps off Haze, a ba-bump cabaret-tinged number, with an incisively lyrical solo.
The band close with Undertow, a dynamically shifting, baroque-tinged anthem, late Beatles through a glass darkly. Changing Modes' records have been ubiquitous on this blog's annual Best Albums of the Year page since day one and this one will be high on the list for 2021.
--delarue, New York Music Daily