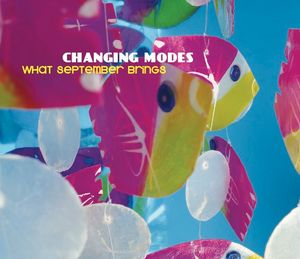 About the Band
CHANGING MODES 

Wendy Griffiths: Vocals, Keyboards, Bass

Grace Pulliam: Vocals, Keyboards, Percussion
Yuzuru Sadashige: Bass, Guitar, keyboards, Vocals
Timur Yusef: Drums, Electronic Percussion
Sawa Tamezane, Baritone Saxophone

The music of New York City based rock band, Changing Modes, began quietly in the mid-90's when the principal songwriter of the band, Wendy Griffiths (vocals, keyboards, bass) started making her "bedroom tapes." She says she had no intention of making these songs public. "They were like art songs with very unusual rock beats," Yuzuru Sadashige (bass, guitar) recalls. "She programmed very complex layers of accompaniment on her Yamaha SY77, then sang along to record onto her $30 Sears tape recorder, very LoFi, you would hear house noise and car horns in the background, but they were extremely interesting and totally unique."

Lucid Culture (www.lucidculture.wordpress.com) describes their music very well: "New York art-rockers Changing Modes leap from one radically dissimilar style to another with gusto, guile and a tunefulness that won't quit. Blending classical flourishes, punk energy, playful and clever lyrics that draw on 80s new wave and a ubiquitous element of surprise, every time you think you've got them figured out, they drop something new on you."  

The band played NXNE in Toronto and also won M.E.A.N.Y Fest in 2012.  They also are regulars at the International Pop Overthrow Festival, and tour the Northeast regularly.

The band has released nine albums and two EPs and have been actively performing their strangely catchy and complex music in New York, Chicago, Boston, Atlanta, Charlottesville, Philadelphia Toronto and Washington D.C.  The band has performed alongside The Ditty Bops, Brandi Carlile, Howie Day and King Missile.